!-- BEGIN Breadcrumb and Content -->
Ayellet Segrè, Ph.D.
Research Interests / Software / Funding / Publications / Contact information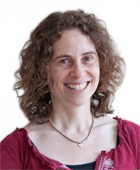 I am currently a post-doctoral fellow in the labs of David Altshuler and Mark Daly at the Broad Institute and Massachusetts General Hospital.
2001-2007 Ph.D., Department of Molecular and Cellular Biology, Harvard University.
1998-2001 M.Sc., Weizmann Institute of Science, Israel.
1995-1998 B.Sc., Life Sciences, Hebrew University of Jerusalem, Israel.

Research Interests
I am interested in understanding the genetic and biological causes of common diseases, in particular of type 2 diabetes, cardiovascular diseases, and related metabolic phenotypes. Towards this goal, I am developing and applying computational and statistical methods that integrate between genome-wide association and more recently sequencing studies of human populations, biological knowledge and large-scale functional genomics studies. Genome-wide association studies (GWAS) and meta-analyses have lead to the discovery of thousands of new genomic regions associated with hundreds of complex human diseases and traits. However, identifying the actual causal variants and genes in the associated regions, and the biological processes through which the associated variants and genes exert their effect on the given disease or trait is not trivial. Furthermore, a large fraction of the genetic basis of most complex diseases and traits has yet to be identified. Recent statistical studies suggest that a big portion of the missing heritability may be attributed to hundreds of genetic associations of modest effects that are hard to detect individually due to limited study sample sizes.

As a first step towards addressing some of these questions, I developed a computational method that applies a gene-set enrichment analysis approach, originally developed for expression data, to genome-wide association variant data called MAGENTA or Meta-Analysis Gene-set Enrichment of variaNT Associations. MAGENTA tests whether predefined pathways or sets of functionally related genes are enriched for multiple genetic associations of modest effects that are hard to detect at the individual variant level but that together may have a significant impact on a given complex disease or trait.

I am continuing to address the following problems:

1. Identify the key biological processes and functional modules through which causal genes and variants exert their effect on metabolic and cardiovascular diseases and traits, with an emphasis on regulatory networks.

2. Develop methods to identify or prioritize the most likely causal variant/s and gene/s in the genome for a given complex trait. One focus is identifying and characterizing causal variants in regulatory and noncoding regions, where a substantial fraction of common variant associations identified so far lie.

3. Extend the gene-set enrichment approach of MAGENTA to whole exome and whole genome sequences of human populations. This will enable to consider rare variants of strong effects in addition to common variants of modest effects.

4. Characterize genetic architecture and heterogeneity of common and rare variants contributing to phenotypic diversity or disease susceptibility at the pathway level.



Software
1. MAGENTA or Meta-Analysis Gene-set Enrichment of variaNT Associations is a method that applies gene set enrichment analysis to genome-wide single variant association data. It collectively analyzes sets of genetic variants that lie near genes from the same biological process. MAGENTA was developed in the labs of David Altshuler and Mark Daly, and can be downloaded here. Last updated October 2010.
2. A Bulk segregrant analysis method for mapping adaptive mutations in yeast S. cerevisiae developed in the lab of Andrew Murray at Harvard University can be download here. Last updated August 2006.
Funding
American Diabetes Association post-doctoral fellowship (2008-2012).
Publications
Andrew Morris*, Ben Voight*, Tanja Teslovich*, Teresa Ferreira*, Ayellet V. Segrè*, Valgerdur Steinthorsdottir, Rona J Strawbridge, Hassan Khan, Harald Grallert, Anubha Mahajan, Inga Prokopenko, Hyun Min Kang, Christian Dina , Tonu Esko, Ross M Fraser, Stavroula Kanoni, Ashish Kumar, Vasiliki Lagou, Claudia Langenberg, Jian'an Luan, Cecilia M Lindgren, Martina Müller-Nurasyid, Sonali Pechlivanis, N William Rayner, Laura J Scott, Steven Wiltshire, Loic Yengo, Leena Kinnunen, Elizabeth J Rossin, Soumya Raychaudhuri , Andrew D Johnson, Antigone S Dimas, Ruth JF Loos, Sailaja Vedantam, Han Chen, Jose C Florez, Caroline Fox, Ching-Ti Liu, Denis Rybin, David J Couper, Wen Hong L Kao, Man Li, Marilyn C Cornelis, Peter Kraft, Qi Sun, Rob M van Dam, Heather M Stringham, Peter S Chines, Krista Fischer, Pierre Fontanillas, Oddgeir L Holmen, Sarah E Hunt, Anne U Jackson, Augustine Kong, Robert Lawrence, Julia Meyer, John RB Perry, Carl GP Platou, Simon Potter, Emil Rehnberg, Neil Robertson, Suthesh Sivapalaratnam, Alena Stancakova, Kathleen Stirrups, Gudmar Thorleifsson, Emmi Tikkanen, Andrew R Wood, Peter Almgren, Mustafa Atalay, Rafn Benediktsson, Lori L Bonnycastle, Noël Burtt, Jason Carey, Guillaume Charpentier, Andrew T Crenshaw, Alex SF Doney, Mozhgan Dorkhan, Sarah Edkins, Valur Emilsson, Elodie Eury, Tom Forsen, Karl Gertow, Bruna Gigante, George B Grant, Christopher J Groves, Candace Guiducci, Christian Herder, Astradur B Hreidarsson, Jennie Hui, Alan James, Anna Jonsson, Wolfgang Rathmann, Norman Klopp, Jasmina Kravic, Kaarel Krjutškov, Cordelia Langford, Karin Leander, Eero Lindholm, Stéphane Lobbens, Satu Männistö, Ghazala Mirza, Thomas W Mühleisen, Bill Musk, Melissa Parkin, Loukianos Rallidis, Jouko Saramies, Bengt Sennblad, Sonia Shah, Gunnar Sigurðsson, Angela Silveira, Gerald Steinbach, Barbara Thorand, Joseph Trakalo, Fabrizio Veglia, Roman Wennauer, Wendy Winckler, Delilah Zabaneh, Harry Campbell, Cornelia van Duijn, Andre G Uitterlinden, Albert Hofman, Eric Sijbrands, Goncalo R Abecasis, Katharine R Owen, Eleftheria Zeggini, Mieke D Trip, Nita G Forouhi, Ann-Christine Syvänen, Johan G Eriksson, Leena Peltonen, Markus M Nöthen, Beverley Balkau, Colin NA Palmer, Valeriya Lyssenko, Tiinamaija Tuomi, Bo Isomaa, David J Hunter, Lu Qi, Wellcome Trust Case Control Consortium, MAGIC Investigators, GIANT Consortium, AGEN-T2D Consortium, SAT2D Consortium, Alan R Shuldiner, Michael Roden, Ines Barroso, Tom Wilsgaard, John Beilby, Kees Hovingh, Jackie F Price, James F Wilson, Rainer Rauramaa, Timo A Lakka, Lars Lind, George Dedoussis, Inger Njølstad, Nancy L Pedersen, Kay-Tee Khaw, Nicholas J Wareham, Sirkka M Keinanen-Kiukaanniemi, Timo E Saaristo, Eeva Korpi-Hyövälti, Juha Saltevo, Markku Laakso, Johanna Kuusisto, Andres Metspalu, Francis S Collins, Karen L Mohlke, Richard N Bergman, Jaakko Tuomilehto, Bernhard O Boehm, Christian Gieger, Kristian Hveem, Stephane Cauchi, Philippe Froguel, Damiano Baldassarre, Elena Tremoli, Steve E Humphries, Danish Saleheen, John Danesh, Erik Ingelsson, Samuli Ripatti, Veikko Salomaa, Raimund Erbel, Karl-Heinz Jöckel, Susanne Moebus, Annette Peters, Thomas Illig, Ulf de Faire, Anders Hamsten, Andrew D Morris, Peter J Donnelly, Timothy M Frayling, Andrew T Hattersley, Eric Boerwinkle , Olle Melander, Sekar Kathiresan, Peter M Nilsson, Panos Deloukas, Unnur Thorsteinsdottir, Leif C Groop, Kari Stefansson, Frank Hu, James S Pankow, Josée Dupuis, James B Meigs, David Altshuler, Michael Boehnke , and Mark I McCarthy for the DIAGRAM Consortium. Large-scale association analysis provides insights into the genetic architecture and pathophysiology of type 2 diabetes. Nature Genetics, 2012, Sep 44(9): 981-90. *Equally contributing first co-authors.
Hao Zhu*, Ng Shyh-Chang*, Ayellet V. Segrè, Gen Shinoda, Samar P. Shah, William S. Einhorn, Ayumu Takeuchi, Jesse M. Engreitz, John P. Hagan, Michael G Kharas, Achia Urbach, James E. Thornton, Robinson Triboulet, Richard I. Gregory, DIAGRAM Consortium, MAGIC Investigators, David Altshuler and George Q. Daley. The Lin28/let-7 axis regulates glucose metabolism. Cell, 2011; 147, 81-94.
Cathy E Elks, John R B Perry, Patrick Sulem, Daniel I Chasman, Nora Franceschini, Chunyan He, Kathryn L Lunetta, Jenny A Visser, Enda M Byrne, Diana L Cousminer, Daniel F Gudbjartsson, Tõnu Esko, Bjarke Feenstra, Jouke-Jan Hottenga, Daniel L Koller, Zoltán Kutalik, Peng Lin, Massimo Mangino, Mara Marongiu, Patrick F McArdle, Albert V Smith, Lisette Stolk, Sophie H van Wingerden, Jing Hua Zhao, Eva Albrecht, Tanguy Corre, Erik Ingelsson, Caroline Hayward, Patrik K E Magnusson, Erin N Smith, Shelia Ulivi, Nicole M Warrington, Lina Zgaga, Helen Alavere, Najaf Amin, Thor Aspelund, Stefania Bandinelli, Inês Barroso, Gerald S Berenson, Sven Bergmann, Hannah Blackburn, Eric Boerwinkle, Julie E Buring, Fabio Busonero, Harry Campbell, Stephen J Chanock, Wei Chen, Marilyn C Cornelis, David Couper, Andrea D Coviello, Pio d'Adamo, Ulf de Faire, Eco J C de Geus, Panos Deloukas, Angela Döring, George Davey Smith, Douglas F Easton, Gudny Eiriksdottir, Valur Emilsson, Johan Eriksson, Luigi Ferrucci, Aaron R Folsom, Tatiana Foroud, Melissa Garcia, Paolo Gasparini, Frank Geller, Christian Gieger, The GIANT Consortium, Vilmundur Gudnason, Per Hall, Susan E Hankinson, Liana Ferreli, Andrew C Heath, Dena G Hernandez, Albert Hofman, Frank B Hu, Thomas Illig, Marjo-Riitta Järvelin, Andrew D Johnson, David Karasik, Kay-Tee Khaw, Douglas P Kiel, Tuomas O Kilpeläinen, Ivana Kolcic, Peter Kraft, Lenore J Launer, Joop S E Laven, Shengxu Li, Jianjun Liu, Daniel Levy, Nicholas G Martin, Wendy L McArdle, Mads Melbye, Vincent Mooser, Jeffrey C Murray, Sarah S Murray, Michael A Nalls, Pau Navarro, Mari Nelis, Andrew R Ness, Kate Northstone, Ben A Oostra, Munro Peacock, Lyle J Palmer, Aarno Palotie, Guillaume Paré, Alex N Parker, Nancy L Pedersen, Leena Peltonen, Craig E Pennell, Paul Pharoah, Ozren Polasek, Andrew S Plump, Anneli Pouta, Eleonora Porcu, Thorunn Rafnar, John P Rice, Susan M Ring, Fernando Rivadeneira, Igor Rudan, Cinzia Sala, Veikko Salomaa, Serena Sanna, David Schlessinger, Nicholas J Schork, Angelo Scuteri, Ayellet V Segrè, Alan R Shuldiner, Nicole Soranzo, Ulla Sovio, Sathanur R Srinivasan, David P Strachan, Mar-Liis Tammesoo, Emmi Tikkanen, Daniela Toniolo, Kim Tsui, Laufey Tryggvadottir, Jonathon Tyrer, Manuela Uda, Rob M van Dam, Joyce B J van Meurs, Peter Vollenweider, Gerard Waeber, Nicholas J Wareham, Dawn M Waterworth, Michael N Weedon, H Erich Wichmann, Gonneke Willemsen, James F Wilson, Alan F Wright, Lauren Young, Guangju Zhai, Wei Vivian Zhuang, Laura J Bierut, Dorret I Boomsma, Heather A Boyd, Laura Crisponi, Ellen W Demerath, Cornelia M van Duijn, Michael J Econs, Tamara B Harris, David J Hunter, Ruth J F Loos, Andres Metspalu, Grant W Montgomery, Paul M Ridker, Tim D Spector, Elizabeth A Streeten, Kari Stefansson, Unnur Thorsteinsdottir, André G Uitterlinden, Elisabeth Widen, Joanne M Murabito, Ken K Ong & Anna Murra. Thirty new loci for age at menarche identified by a meta-analysis of genome-wide association studies. Nature Genetics, 2010 Dec; 42(12):1077-85.
Gaudet MM, Kirchhoff T, Green T, Vijai J, Korn JM, Guiducci C, Segrè AV, McGee K, McGuffog L, Kartsonaki C, Morrison J, Healey S, Sinilnikova OM, Stoppa-Lyonnet D, Mazoyer S, Gauthier-Villars M, Sobol H, Longy M, Frenay M, GEMO Study Collaborators, Hogervorst FB, Rookus MA, Collée JM, Hoogerbrugge N, van Roozendaal KE; HEBON Study Collaborators, Piedmonte M, Rubinstein W, Nerenstone S, Van Le L, Blank SV, Caldés T, de la Hoya M, Nevanlinna H, Aittomäki K, Lazaro C, Blanco I, Arason A, Johannsson OT, Barkardottir RB, Devilee P, Olopade OI, Neuhausen SL, Wang X, Fredericksen ZS, Peterlongo P, Manoukian S, Barile M, Viel A, Radice P, Phelan CM, Narod S, Rennert G, Lejbkowicz F, Flugelman A, Andrulis IL, Glendon G, Ozcelik H; OCGN, Toland AE, Montagna M, D'Andrea E, Friedman E, Laitman Y, Borg A, Beattie M, Ramus SJ, Domchek SM, Nathanson KL, Rebbeck T, Spurdle AB, Chen X, Holland H; kConFab, John EM, Hopper JL, Buys SS, Daly MB, Southey MC, Terry MB, Tung N, Overeem Hansen TV, Nielsen FC, Greene MH, Mai PL, Osorio A, Durán M, Andres R, Benítez J, Weitzel JN, Garber J, Hamann U, EMBRACE, Peock S, Cook M, Oliver C, Frost D, Platte R, Evans DG, Lalloo F, Eeles R, Izatt L, Walker L, Eason J, Barwell J, Godwin AK, Schmutzler RK, Wappenschmidt B, Engert S, Arnold N, Gadzicki D, Dean M, Gold B, Klein RJ, Couch FJ, Chenevix-Trench G, Easton DF, Daly MJ, Antoniou AC, Altshuler DM, Offit K, Sinilnikova OM, Stoppa-Lyonnet D, Mazoyer S, Gauthier-Villars M, Sobol H, Longy M, Frenay M, Sinilnikova O, Barjhoux L, Giraud S, Léone M, Mazoyer S, Stoppa-Lyonnet D, Gauthier-Villars M, Houdayer C, Moncoutier V, Belotti M, de Pauw A, Bressac-de-Paillerets B, Remenieras A, Byrde V, Caron O, Lenoir G, Bignon YJ, Uhrhammer N, Lasset C, Bonadona V, Hardouin A, Berthet P, Sobol H, Bourdon V, Noguchi T, Eisinger F, Coulet F, Colas C, Soubrier F, Coupier I, Peyrat JP, Fournier J, Révillion F, Vennin P, Adenis C, Rouleau E, Lidereau R, Demange L, Nogues C, Muller D, Fricker JP, Longy M, Sevenet N, Toulas C, Guimbaud R, Gladieff L, Feillel V, Leroux D, Dreyfus H, Rebischung C, Cassini C, Faivre L, Prieur F, Ferrer SF, Frénay M, Vénat-Bouvet L, Lynch HT, Hogervorst FB, Rookus MA, Collée JM, Hoogerbrugge N, van Roozendaal KE, Hogervorst FB, Verhoef S, Verheus M, van 't Veer LJ, van Leeuwen FE, Rookus MA, Collée M, van den Ouweland AM, Jager A, Hooning MJ, Tilanus-Linthorst MM, Seynaeve C, van Asperen CJ, Wijnen JT, Vreeswijk MP, Tollenaar RA, Devilee P, Ligtenberg MJ, Hoogerbrugge N, Ausems MG, van der Luijt RB, Aalfs CM, van Os TA, Gille JJ, Waisfisz Q, Meijers-Heijboer H, Gomez-Garcia EB, van Roozendaal CE, Blok MJ, Oosterwijk JC, van der Hout AH, Mourits MJ, Vasen HF, Spurdle AB, Chenevix-Trench G. Common Genetic Variants and Modification of Penetrance of BRCA2-Associated Breast Cancer. PLoS Genetics 6(10): e1001183..
Elizabeth K. Speliotes, Cristen J. Willer, Sonja I. Berndt, Keri L. Monda, Gudmar Thorleifsson, Anne U. Jackson, Hana Lango Allen, Cecilia M. Lindgren, Jian'an Luan, Reedik Mägi, Joshua C. Randall, Sailaja Vedantam, Thomas W. Winkler, Lu Qi, Tsegaselassie Workalemahu, Iris M. Heid, Valgerdur Steinthorsdottir, Michael N. Weedon, Eleanor Wheeler, Andrew R. Wood, Teresa Ferreira, Robert J. Weyant, Ayellet V. Segrè et al. Association analyses of 249,796 individuals reveal eighteen new loci associated with body mass index. Nature Genetics, 2010, Nov;42(11):937-48..
Lango Allen, Hana, Estrada, Karol, Lettre, Guillaume, Berndt, Sonja I., Weedon, Michael N., Rivadeneira, Fernando, Willer, Cristen J., Jackson, Anne U., Vedantam, Sailaja, Ferreira, Teresa, Wood, Andrew R., Weyant, Robert J., Segrè, Ayellet V., et al. Hundreds of variants influence human height and cluster within genomic loci and biological pathways. Nature, 2010, Oct 14;467(7317):832-8.
Ayellet V. Segrè , DIAGRAM Consortium, MAGIC investigators, Leif Groop, Vamsi K. Mootha, Mark J. Daly, and David Altshuler (2010) Common Inherited Variation in Mitochondrial Genes is not Enriched for Associations with Type 2 Diabetes or Related Glycemic Traits. PLoS Genetics Aug 12; 6(8). pii: e1001058.
[Featured in: Iedeker T., Dutkowski J, Hood L. Cell. 2011 144(6):860-3]]
Voight BF, Scott LJ, Steinthorsdottir V, Morris AP, Dina C, Welch RP, Zeggini E, Huth C, Aulchenko YS, Thorleifsson G, McCulloch LJ, Ferreira T, Grallert H, Amin N, Wu G, Willer CJ, Raychaudhuri S, McCarroll SA, Langenberg C, Hofmann OM, Dupuis J, Qi L, Segrè AV, et al., Twelve type 2 diabetes susceptibility loci identified through large-scale association analysis. Nature Genetics, 2010 Jul; 42(7):579-89.
Tal Katz Ezov, Sean L. Chang, Ze'ev Frenkel, Ayellet V. Segrè, Bahalul M, Andrew W. Murray, Jun-Yi Leu, Abraham Korol, Yechezkel Kashi. Heterothallism in Saccharomyces cerevisiae isolates from nature: effect of HO locus on the mode of reproduction. Molecular Ecology, 2010, 19(1): 121-131.
Kong A, Steinthorsdottir V, Masson G, Thorleifsson G, Sulem P, Besenbacher S, Jonasdottir A, Sigurdsson A, Kristinsson KT, Jonasdottir A, Frigge ML, Gylfason A, Olason PI, Gudjonsson SA, Sverrisson S, Stacey SN, Sigurgeirsson B, Benediktsdottir KR, Sigurdsson H, Jonsson T, Benediktsson R, Olafsson JH, Johannsson OT, Hreidarsson AB, Sigurdsson G; DIAGRAM Consortium , Ferguson-Smith AC, Gudbjartsson DF, Thorsteinsdottir U, Stefansson K. Parental origin of sequence variants associated with complex diseases. Nature, 2009, 462(7275):868-74.
Ayellet V. Segrè , Andrew W. Murray and Jun-Yi Leu (2006) High-Resolution Mutation Mapping Reveals Parallel Experimental Evolution in Yeast. PLoS Biology, 4(8): e256. [Research highlighted in Nature Reviews Genetics 7, 665 (September 2006)]

Andrei Seluanov, Vera Gorbunova, Ayellet Falcovitz , Alex Sigal, Michael Milyavsky, Irit Zurer, Galit Shohat, Naomi Goldfinger and Varda Rotter. Change of the death pathway in senescent human fibroblasts in response to DNA damage is caused by inability to stabilize p53. Molecular and Cellular Biology, March 2001, 21(5): 1552-1564.
Michal Lapidot, Yitzhak Pilpel, Yoav Gilad, Ayellet Falcovitz , Dror Sharon, Thomas Haaf and Doron Lancet. Mouse-human Orthology relationships in an Olfactory Receptor Gene Cluster. Genomics, 2001, 71: 296-306.
Hagai Offer, Irit Zurer, Gaspar Banfalvi, Marian Reha'k, Ayellet Falcovitz, Michael Milyavsky, Naomi Goldfinger and Varda Rotter. p53 Modulates Base Excision Repair in a Cell Cycle-specific Manner after Genotoxic Stress. Cancer Research, 2001 Jan, 61(1):88-96.
Nava Almog, Michael Milyavsky, Stambolsky Perry, Ayellet Falcovitz, Naomi Goldfinger, and Varda Rotter. The role of the C' terminus of murine p53 in the p53/mdm-2 regulatory loop. Carcinogenesis, 2001 May; 22(5):779-85.
Ayellet Segrè
Broad Institute of MIT and Harvard
Medical and Population Genetics Program
7 Cambridge Center
Cambridge, MA 02142
Email: asegre [AT] broadinstitute [DOT] org
Phone: 617-714-7836